Launch, sell & deliver subscriptions on Salesforce
What's in your Solution Overview?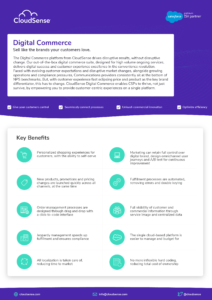 Faced with evolving customer expectations and disruptive market changes, Communications providers consistently sit at the bottom of NPS benchmarks. But, with customer experience fast eclipsing price and product as the key brand differentiator, this has to change.

The Digital Commerce platform from CloudSense drives disruptive results, without disruptive
change. Our out-of-the-box digital commerce suite, designed for high volume ongoing services,
delivers digital success and customer experience excellence in the convenience revolution.
Download your solution overview today to discover the power of CloudSense Digital Commerce:
Diversify your offerings and deliver subscriptions, services and tangible goods from a single platform
Connect marketing, sales, fulfillment and customer service to provide the ultimate personalized customer experience
Empower customers to stay up-to-speed and manage subscriptions through self-service.